HEAVY HANDLING MACHINES AND EQUIPMENT - FOR HEAVY TASKS!
Take the advice of N.C. Nielsen when solving your internal transport challenges. We are Denmark's largest supplier of forklift trucks, terminal tractors and special-purpose machines. We have obtained that position through many years of targeted work with high product quality and service.
N.C. Nielsen offers complete solutions that match all logistics tasks, and we develop customised customer solutions. Be it container forklift trucks, reach stackers, terminal tractors for ports or the large heavy handling machines - we are ready to assist you in your logistical challenges.
N.C. Nielsen has its headquarters in Balling in Denmark, and we have subsidiaries in Norway as well as Sweden. Here we import and distribute the world-known brands from Terberg, Konecranes, Seacom and others - and cooperate with TII-Group about Scheuerle and Nicolas about SPMT trailers.
We have more than 113 service engineers on the Scandinavian roads daily. They are being supported by a nationwide service organisation - and supplemented by the largest spare parts store of the industry. Furthermore, N.C. Nielsen offers Scandinavia's largest range of used machines and equipment – on the internet and at our modern showroom in Balling.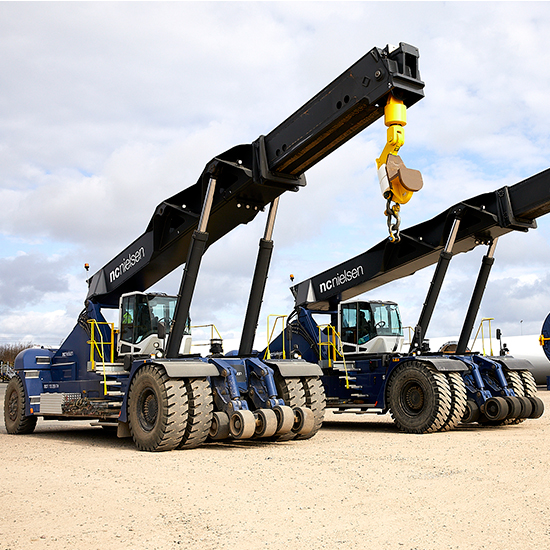 STAY UP TO DATE ON N.C. NIELSEN
Contact us
WITH YOU ALL THE WAY
You will not be left alone once we have concluded an agreement. Our outgoing service engineers and our professional spare parts store always make sure that we are ready to help with service and any necessary repairs.